National Fastener Distributors Association members will gather this June for the 2016 annual meeting and Executive Sales Planning Sessions in Louisville, Kentucky.
May, 2016 – Huron Automatic Screw Company is proud to be a sponsor for the 2016 National Fastener Distributors Association (NFDA) annual meeting and Executive Sales and Planning Sessions (ESPS). The event brings together NFDA members from across the nation to gather and learn about the latest trends effecting the fastener industry today. The meeting will be held at the Galt House Hotel in Louisville, KY this year from June 27th to the 28th .
"We are looking forward to networking with our fellow fastener professionals at the NFDA annual meeting," shares Warren Brooks, VP Sales and Marketing at Huron Automatic Screw Company. "This is a great opportunity to increase market knowledge and build relationships that will strengthen our company and the industry for the future."
The NFDA will also be hosting the Executive Sales Planning Sessions (ESPS) on June 28th where members can sign up for face to face meetings to discuss business opportunities and learn about future requirements in the growing fastener industry. This is a great opportunity for NFDA members to meet in person with both Edward Brooks, President and Warren Brooks of Huron Automatic Screw Company to discuss future business opportunities or learn more about the latest services available at Huron Automatic Screw Company. In addition to the ESPS sessions Brian Beaulieu of the Institute for Trend Research – ITR Economics – will be giving a keynote economic update address for all attendees.
Those interested in attending the conference or the ESPS can learn more and register online at http://www.nfda-fastener.org/?2016AnnualSchedule.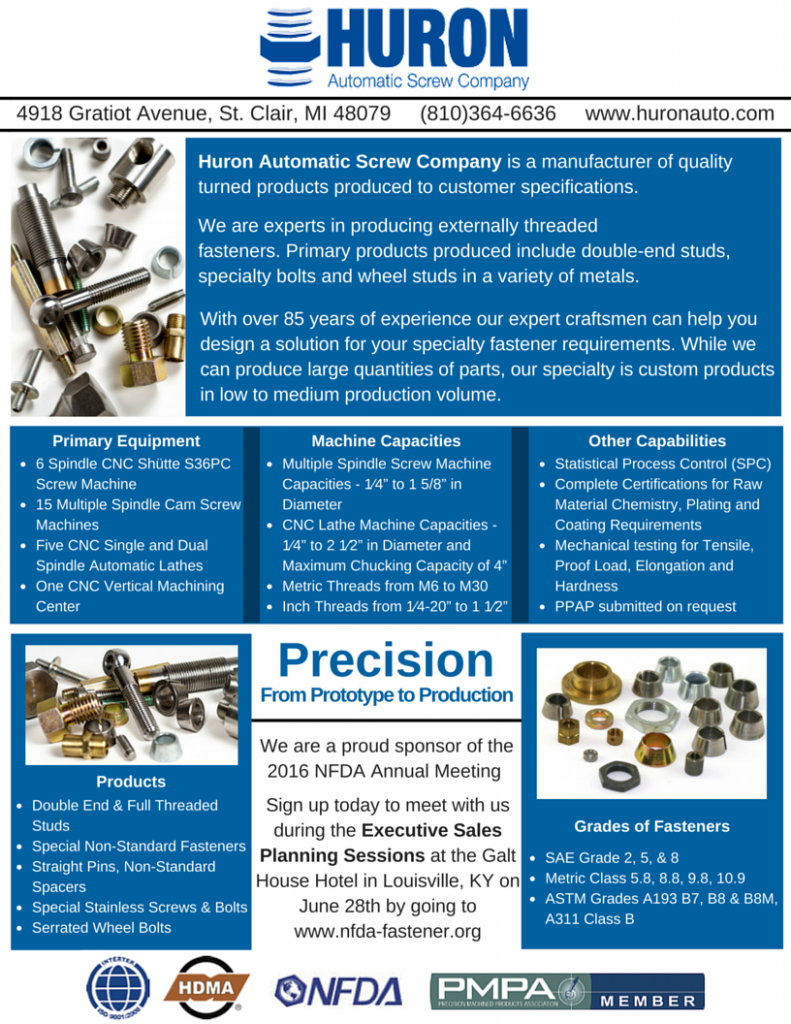 About Huron Automatic Screw Company
With over 85 years of experience, Huron Automatic Screw Company is highly regarded in the fastener manufacturing industry for product excellence and quick turnaround, making us an ideal partner to handle your prototype through production quantity jobs. Our precision machined threaded fasteners, pins, spacers and other parts are purchased by fastener distributors, component manufacturers and OEMs across the United States and go into a wide variety of components.
Our tradition of quality and our use of innovative modern manufacturing practices have been our company's competitive edge in manufacturing precision machined products.  Add to that our reputation for on-time delivery and competitive prices, and you've got every answer you need to give us a try on your next project.
[schema type="organization" orgtype="Organization" url="www.huronauto.com" name="Huron Automatic Screw Company" street="4918 Gratiot Ave" city="St Clair" state="MI" postalcode="48079″ country="US" phone="810-364-6636″ ]