Members of the National Fastener Distributors Association (NFDA) will gather March 15-18 to share new ideas and make connections to build a stronger network.
As a proud member of the National Fastener Distributors Association (NFDA), Huron Automatic Screw Company is excited to participate in the Pacific-West conference. The event brings together NFDA members from across the nation to gather and learn about the latest trends effecting the fastener industry, offering workshops that aim to educate distributors on how to use these trends to benefit our customers and ourselves.
"We find it extremely beneficial to our company and to our customers to participate in these events," Says Warren Brooks, VP of Sales and Marketing at Huron Automatic Screw Company. "the PacWest show provides us with a great opportunity to network with other distributors, increase market knowledge, strengthen our company, and continue to make a positive impact on the industry."
Education and Events
There is a great deal of experience and knowledge to be gained at this conference. Some of the brightest minds in the industry will attend and a few of them will be offering educational presentations. Huron Automatic Screw Company is excited to hear from these industry experts in order to absorb their knowledge and apply it to running our business more efficiently. Some of the Educational events included are:
Narrative Leadership – Led by Ann-Marie Houghtailing, author of How I Created a Dollar Out of Thin Air, this workshop will offer insight into improving communications, team building, ability to effect change, and overcoming adversity.
Fastener Distribution in an Evolving Business Cycle – Led by Dr. Bill Conerly, writer for Forbes, this presentation will provide an evaluation of the current economy and his forecast for the next two years in regards to the industries that affect fastener distribution.
Lunch with Professor Reinhold Würth – Professor Würth, alongside his father, built the company reputed as the leading global supplier of assembly and fastening materials for the automotive, construction, and engineering trades. The Würth Group has a 70,000 employee workforce found in more than 400 companies residing in 80+ countries. It is an honor to be in attendance.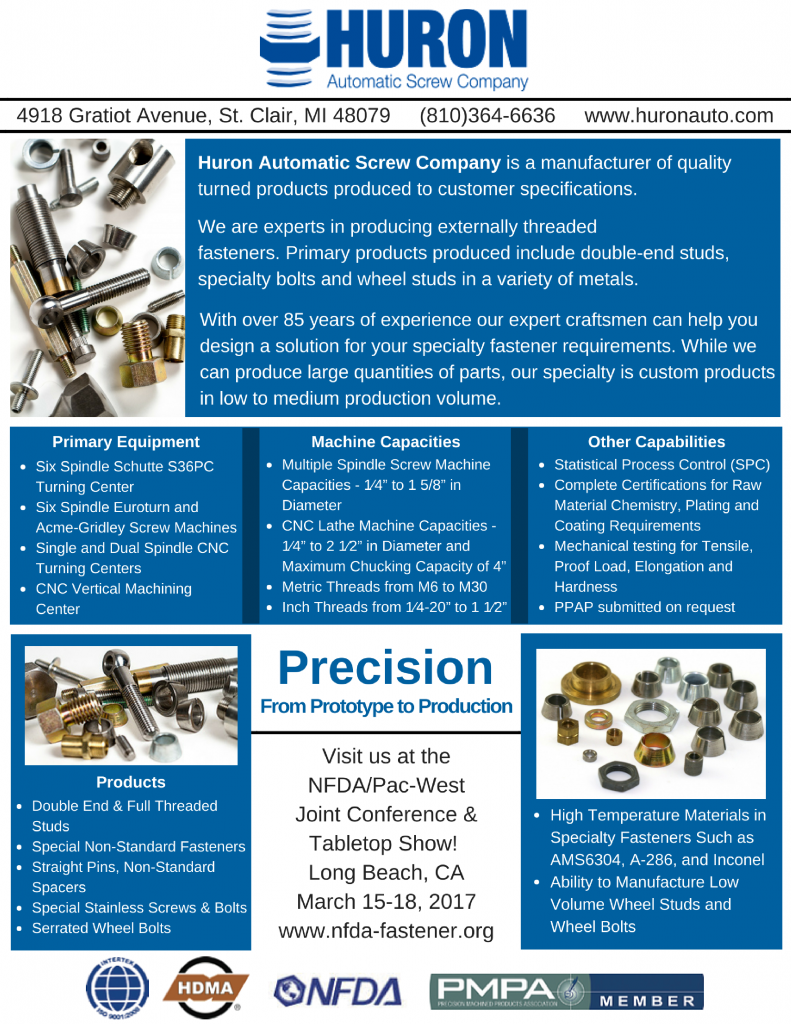 There are several other workshops, as well as a table-top show on March 16th that will showcase some of the newest ideas in the industry. In addition to attending, Huron Automatic Screw Company will have an exhibit at the tabletop show, allowing us to display some of our newest fasteners and precision machined parts. We encourage all attendees to visit our showcase to learn more about the products and services we offer.
Huron Automatic Screw Company is dedicated to continuous improvement. Being an active participant in these events has proven to be a great opportunity to evolve alongside the industry and maintain our reputation for satisfied customers. Huron Automatic Screw Company looks forward to the Pacific-West Distributors Association conference and all it has to offer.
About Huron Automatic Screw Company
With over 85 years of experience, Huron Automatic Screw Company is highly regarded in the fastener manufacturing industry for product excellence and quick turnaround, making us an ideal partner to handle your prototype through production quantity jobs. Our precision machined threaded fasteners, pins, spacers and other parts are purchased by fastener distributors, component manufacturers and OEMs across the United States and go into a wide variety of components such as axles, power trains, suspensions, engines and steering components.
Our tradition of quality and our use of innovative modern manufacturing practices have been our company's competitive edge in manufacturing precision machined products.  Add to that our reputation for on-time delivery and competitive prices, and you've got every answer you need to give us a try on your next project.
[schema type="organization" orgtype="Organization" url="www.huronauto.com" name="Huron Automatic Screw Company" street="4918 Gratiot Ave" city="St Clair" state="MI" postalcode="48079″ country="US" phone="810-364-6636″ ]